Sturgeon Festival
Sturgeon Festival is a family-friendly event, sponsored by Friends of the St. Clair River, centered on providing close encounters with the "Giants of the Great Lakes". Browse a dozen indoor & outdoor displays with hands-on activities, drop-in a workshop, touch a live sturgeon and other native fish, or take a ride on our exclusive Huron Lady Sturgeon Cruise.
Sturgeon are phenomenal to see up close because they reach enormous size - weighing up to 150 pounds, growing over 7 feet, and living over 100 years. The St. Clair River supports the largest remaining population of threatened lake sturgeon. Over 10,000 lake sturgeon call underneath the Blue Water Bridges home which makes it possible to see these majestic fish at the Sturgeon Festival.
Lake sturgeon populations have declined since the early 1900's, and as a result were added to the Threatened Species list in Michigan. In recent years, the lake sturgeon has made something of a comeback due to completion of numerous spawning reefs in the St. Clair River. Sturgeon can be used as a spotlight species to gauge the health of the river, and with sturgeon numbers slowly on the rise we are assured that the health of the St. Clair River is also improving. A sustainable fish population and healthy river is not only important for our health but it means increased recreation and tourism for the Blue Water Area.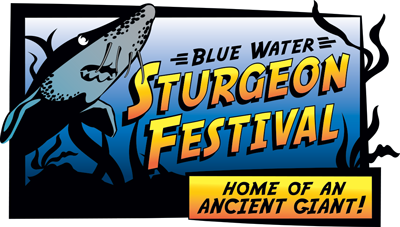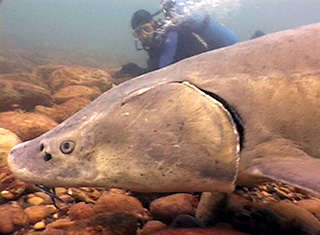 ---
Sturgeon Cruise
Huron Lady Sturgeon Cruise
10:00 a.m. • 11:30 a.m. • 1:00 p.m.
Tickets will be available soon!

Get a glimpse of these enormous fish on the Blue Water Area's exclusive Huron Lady Sturgeon Cruise! Courtesy of Gregory A.D. scuba divers, Sturgeon Cruise guests will watch live video of lake sturgeon swimming in the St. Clair River on big screen televisions on deck. Enjoy the St. Clair River and the beautiful expanse of Lake Huron on this 1 hour cruise narrated by sturgeon experts. There are only 100 seats available each cruise, so don't delay, get your tickets today! Boarding for the sturgeon cruise begins promptly 20 minutes before departure.
The sturgeon cruise takes place rain or shine. In the event of severe weather, the cruise may be delayed up to 30 minutes, but not longer than 60 minutes. If the boat captain deems the weather too severe to delay or to leave the dock, the boat will remain moored and the 1-hour sturgeon presentation will take place dockside on the boat. Tickets are non-refundable and non-transferable.