EVENT SPOTLIGHT
Monthly Speaker Series
Wednesday, April 27: 6pm
On Wednesday, April 27, 2016 at 6:00 p.m. Friends of the St. Clair River is continuing their monthly speaker series by offering a free presentation and showcase on "Blueways, Trail Towns and the Island Loop Route National Water Trail". The class will be led by Lori Eschenburg, a planner with the St. Clair County Metropolitan Planning Commission. One of Lori's many exciting recent projects was the Blueways of St. Clair website. The purpose of this award-winning project was to highlight St. Clair County's bountiful blueways and greenways for recreation. Because of the Blueways project in St. Clair County, we now have the very first National Water Trail in Michigan! The presentation will last 45 minutes and meets at the St. Clair County Administration Building Auditorium, 200 Grand River Avenue, Port Huron.
Lori's presentation will focus on three interrelated programs; The Blueways of St. Clair, the Island Loop National Water Trail in Port Huron, and the Blue Water Trail Towns Program.  Attendees will learn about local Blueway paddling trails, how to find information on local greenway walking/cycling trails, and what the region is doing to welcome recreationists.  She will also present information about handicapped accessible kayak/canoe launches in the area.  We are also developing a Blue Water Birding Trail that we will take a sneak peek at that evening!
Earth Fair, Friday & Saturday
April 29 & 30: 10am-4pm
By blending together demonstrations, workshops, exhibits, artisans, and activities Earth Fair focuses on raising the level and capacity of environmental stewards to the thousands of visitors who take part in this large-scale event each year. We are passionate about creating an environment at Earth Fair that's fun for everyone; visitors from young to old learn how their actions impact our local environment and the significant role we play in the health of our economy and ecosystem. We're inspiring and challenging citizens to find alternatives to energy, transportation, food, homes and gardens so they may create a better earth because as we all know, our environment is a direct reflection on how we live. Visit http://www.earthdayfair.com/ to learn more.
Butterfly Day
Wednesday, May 25
Butterfly Day! Michigan Butterfly Network volunteer monitor training day and public River Walk Butterfly Tour, Wednesday, May 25 – both in Port Huron.
Sturgeon Festival
Saturday, June 4: 10am - 4pm
The Sturgeon Festival is a family-friendly event, sponsored by Friends of the St. Clair River, centered on providing close encounters with the "Giants of the Great Lakes". Browse a dozen indoor & outdoor displays with hands-on activities, drop-in a workshop, touch a live sturgeon and other native fish, or take a ride on our exclusive Huron Lady Sturgeon Cruise.
St. Clair County is a big part of what is known as the "Blue Water Area" which got its name from the St. Clair River – a river of incredible sapphire colors. If you live here or have visited here you know this to be true. Our passion for the St. Clair River runs deep here in the Blue Water Area, so welcome and thank you for stopping by!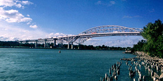 St. Clair County contains some of the most valuable fresh water on earth and Friends of the St. Clair River is here to protect the future of these waters. Founded in 2007, Friends of the St. Clair River is a grassroots environmental non-profit providing fun, educational activities that connect our community to our water resources. We are the lead organization for advocating for water resource protection and restoration throughout St. Clair County.
Introducing families to our precious water resources is our business. Through education, monitoring, and restoration activities we are committed to helping families enjoy a day together in the great outdoors. We hope that this love of nature creates a lifetime of memories and stewards that will one day advocate for clean water too.
The St. Clair River is the Blue Water Area's most significant natural feature. We invite you to get involved with us in celebrating the St. Clair River. Whatever you do, get out and show the water some love!
St. Clair River Progress Report
---
Experience an aerial view of the Blue Water River Walk