Field Days
Tuesdays @ 10am
Plotting, planning, weeding and chatting, oh my! Bring your neighbor, family or kids for an hour of hands-on work followed by an hour of learning and playing. Meet us under the arch at 10am with your favorite gardening & outdoor cleanup tools and gloves. There are different topics & tasks each week. All ages and abilities are welcome.
---
Stewards Meetings
4th Wednesday @ 6pm
We launched our Monthly Speaker Series! These special presentations will be the fourth Wednesday of every month prior to the start of our Stewards meetings. The featured presentation begins at 6pm and is open to the public.; the Stewards meetings begin at 7pm. Meetings are held at the St. Clair County Administration Building, 200 Grand River Avenue, Port Huron. The speaker series will continue on October 28 at 6pm and January 27 at 6pm. To attend our speaker series or to join the Stewards meetings, contact (810) 294-4965 or
email us
---
St. Clair County is a big part of what is known as the "Blue Water Area" which got its name from the St. Clair River – a river of incredible sapphire colors. If you live here or have visited here you know this to be true. Our passion for the St. Clair River runs deep here in the Blue Water Area, so welcome and thank you for stopping by!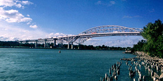 St. Clair County contains some of the most valuable fresh water on earth and Friends of the St. Clair River is here to protect the future of these waters. Founded in 2007, Friends of the St. Clair River is a grassroots environmental non-profit providing fun, educational activities that connect our community to our water resources. We are the lead organization for advocating for water resource protection and restoration throughout St. Clair County.
Introducing families to our precious water resources is our business. Through education, monitoring, and restoration activities we are committed to helping families enjoy a day together in the great outdoors. We hope that this love of nature creates a lifetime of memories and stewards that will one day advocate for clean water too.
The St. Clair River is the Blue Water Area's most significant natural feature. We invite you to get involved with us in celebrating the St. Clair River. Whatever you do, get out and show the water some love!
St. Clair River Progress Report
---
Experience an aerial view of the Blue Water River Walk