2018 EVENT SPOTLIGHT
Wetland Wanderings
July 25 and Aug 22
,Join us the 4th Wednesday in July and August from 6-7 p.m. at
Wetlands County Park
for an exploration of diverse life in this unique, urban ecosystem. We can hardly wait to see what we find and learn about digging in the mud and scooping up water samples, and we need your help! Wetlands County Park is at the south end of Blue Water River Walk in Port Huron. All ages are welcome to this free family-friendly event. Park by either the Bramble or Grayfox docks.
Michigan Conservation Stewards Program
September 11 - 10pm
Breaking news!
You may now register for this class!
Michigan State University Extension Michigan Conservation Stewards Program is a volunteer leader training program for those who are enthusiastic about learning science-based ecosystem management principles and sharing this knowledge with others to help improve Michigan communities. CSP is ideal for individuals interested in Michigan's natural communities, current conservation issues, outdoor recreation, nature study, natural area management, and a variety of other topics such as lake/stream monitoring and habitat restoration. There are 7 classes on TUESDAY EVENINGS from 6 - 9 p.m. at several locations in St. Clair County and 2 FULL-DAY SATURDAY FIELD SESSIONS. Through participation in this 9-week program you will become a certified Michigan Conservation Stewards.
For more information about any of our events, please contact Kirsten Lyons, Stewardship Director, at 810-294-4965 or stewardship@scriver.org.
St. Clair County is a big part of what is known as the "Blue Water Area" which got its name from the St. Clair River – a river of incredible sapphire colors. If you live here or have visited here you know this to be true. Our passion for the St. Clair River runs deep here in the Blue Water Area, so welcome and thank you for stopping by!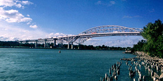 St. Clair County contains some of the most valuable fresh water on earth and Friends of the St. Clair River is here to protect the future of these waters. Founded in 2007, Friends of the St. Clair River is a grassroots environmental non-profit providing fun, educational activities that connect our community to our water resources. We are the lead organization for advocating for water resource protection and restoration throughout St. Clair County.
Introducing families to our precious water resources is our business. Through education, monitoring, and restoration activities we are committed to helping families enjoy a day together in the great outdoors. We hope that this love of nature creates a lifetime of memories and stewards that will one day advocate for clean water too.
The St. Clair River is the Blue Water Area's most significant natural feature. We invite you to get involved with us in celebrating the St. Clair River. Whatever you do, get out and show the water some love!
---
Experience an aerial view of the Blue Water River Walk